So You've Got an old Broken Down Cadillac!


---
The continuing story of a boy and his Caddy.
The Car: 1959 Cadillac Fleetwood (6029)
Color: Georgian Blue
Interior: Gray BroadCloth code 71
Options: 6 way seats, Electric Windows, Cruise Control, Autronic Eye,
Am Radio, El dorado Engine (3 Deuces), Air Ride (Removed),
Electric Vents, AC.
Engine: Cadillac 390. with/ 3 two barrel Rochester Carbs. 345 HP.
Condition: When Purchased High #3, When restore started, Low #3.
---
When I purchased this car, I had no experience with classic cars. I was pretty good with mechanics, and had worked a little on Hot Rods in high school, but never owned an old car myself. If I'd known then what I know now, I'm sure I never would have bought the darn thing, but I'm enjoying it anyway.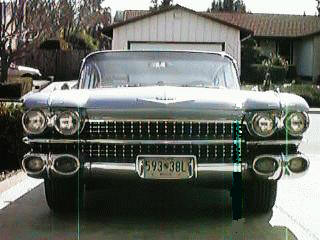 The Fleetwood looks pretty good from 10 feet away, and ran pretty well when I got it. It had 79K miles when purchased, but got un useable by the time it hit 83K. The rings gave out. (more on the engine later)
I bought the car in Vienna VA from a private collector. According to the build sheet the car was originally purchased in Rapid City South Dakota in March 1959. The previous owner had gotten it from another collector in Ohio a couple of years earlier. He claimed that the car had 73K miles when he bought it. I am pretty sure that it lived in Chicago for some time. I found a Chicago Carpenter's Union tape measure behind the glove box!! I also found a pen from a South Dakota feed store in one of the air ducts. My guess is that my caddy was once owned by a farmer.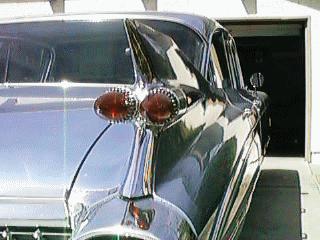 In the summer of 1996 I moved to the San Francisco Bay Area, and started doing a mechanical restoration in July of 1997. The goal is to make the car drive, run and stop as it did when new. Once I got started with the restoration I decided that as long as the parts are off the car I should also clean, repaint, or re plate all the parts, to make the engine compartment look like new as well as run like it. I'm also going to repaint the front end since I have the classic rust in the bottom of the fenders, right by the front doors. Thankfully this is the only serious rust.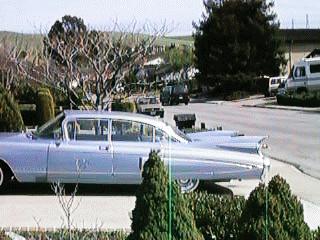 You can see a little square of primer where I patched the rust unsuccessfully.
The rust spots are only about 2" in the corners, and can easily be cut out and new sheet metal stitched in. I'll also get a few little dints filled while I'm at it, and new paint on the fenders and hood. The interior, chrome, and rest of the paint are in good shape. I'll eventually do them over, after a couple more years.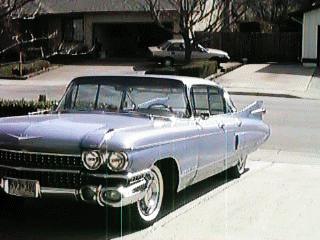 The Fleetwood has as much chrome as they loaded on any caddy that year. I really like the fake air vents on the rear quarters. Every time I see it I have to wonder what was going on in the 50s.
Restoration begins!
---
Author: Bill McKenna
email bill@mckennasgarage.com