Restoration of a 1963 Jaguar XKE FHC (Soup to Nuts)!


---
Warning: Insane Jaguar Nut loose in the Garage!!
The Car: 1963 Jaguar E-Type Series 1 Fixed Head Coupe
Numbers: Serial # 888082, Chassis # V5155,
Color: Opalescent Silver Blue (over painted white)
Interior: Dark Navy Blue
Options: Rust and dirt!
Engine: 3.8 Liter XK Serial number R 9727-9
Transmission: Moss 4 speed non sycro 1st gear box Serial Number EB8855JS
Condition: Low #3 or High #4 Running/Driving but worn out.
---
I've always had a weakness for British cars, don't know why exactly, but when Lisa, (my better half) mentioned that co-worker was selling an old Jaguar, I was interested! Although I was just finishing a 4 year restoration of a 59 Cadillac, and didn't really need a new project, once you have the old car disease its hard to say no to another clunker coming along. :)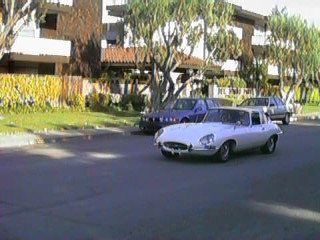 The Car turned out to be an early 63 Jaguar XKE FHC. We weren't completely up on the historical details of XKEs when we first looked at the car, but we quickly learned that it was an early Series 1 and that these are generally considered to be the purest form of the E-Type. The car was in fair condition mostly complete but with some rust in the usual places and worn as much as you would expect a 40 year old car to be after 146K miles of spirited driving. The Previous owner had replaced the head with a later 4.2 Liter head from an XJ6 (I think), but otherwise it was a numbers matching car. No major parts were missing. The interior had been replaced and rust was going strong in the floors, doors and trunk floor. It's an original black plate California car with the (J/63) tag as applied by the state as was customary on all Jags of this period. Lisa and I loved it, and knew it was a very restorable car which would be a ball to drive.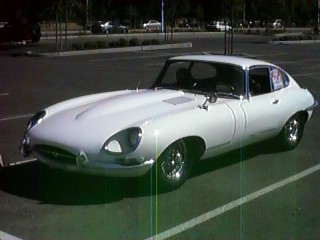 The previous owner maintained the car as well as possible since purchasing it in 1984. Most of this time it had been in storage, and was kept running. Before this it was owned by a kid in Mountain View CA. (didn't get his name) The trail before this goes cold. We have no history prior to this except what we learned from the Jaguar Historical society. The car was originally purchased on Jan 16th 1963 in San Francisco California by a B. Picasso. The original owner and period for the car we found interesting. Eventually we intend to do some research to determine if this person was of any relationship to Pablo Picasso. San Francisco of the early 60s was a beat nick and artist haven and its possible that this could be a person of minor interest. If anyone has any knowledge of a P. Picasso of SF in the early 60s please contact me.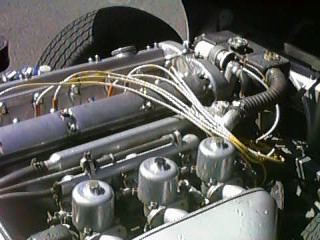 The Engine ran relatively well after some tuning and replacement of the Fuel pump, however it had incorrect valve shims so the top end chattered quite a bit. I spent several weeks trying to get the timing and SU carbs to work consistently. In the end I couldn't get the engine adjusted to run very smooth or quietly without major overhaul of the valve train and fuel delivery system. I realized eventually that nothing short of a total restoration would get this car into the kind of condition which would allow us to enjoy it.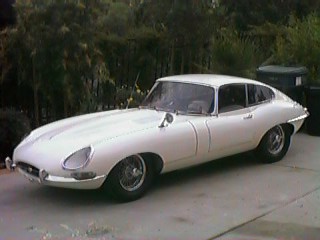 Doesn't look bad from 10 feet away, but up close it has all the signs of wear and age that a 40 year old car would. It survived at least one major accident and was loaded up with bondo. Minor rust is a problem, but not nearly as bad as many of the northern and eastern cars I've seen restored by the pros.
The Chrome will all need re plate, and the motor and suspension are shot, Still even in its worn state it was a blast to drive. Plenty of power left in the 3.8 Liter XK engine. The transmission rear seal leaks oil and so spirited driving was limited because oil from the seal would drip on the hot exhaust clouding up the interior.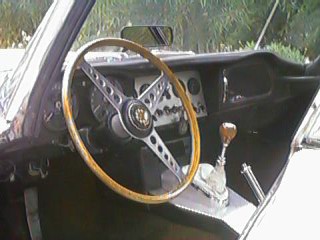 The original interior had been replaced with low end non-correct seat covers and the carpet was beyond trashed. The rubber on all the doors and windows was shot and water had entered the cockpit and started to do its magic on the foot wells and and the trunk tub. Fortunately the main floors and sills are solid. Rust in other places wasn't a big problem. After stripping the paint I discovered a massive amount of body damage but that's a later story.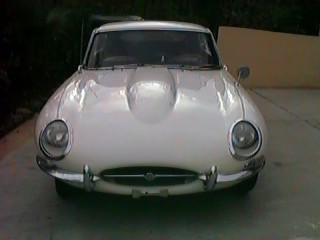 What great lines on these cars! The front driver's side fender was replaced some where along the way and bondo was loaded in many places on the drivers side just behind the hood. All of this will be cut out and replaced.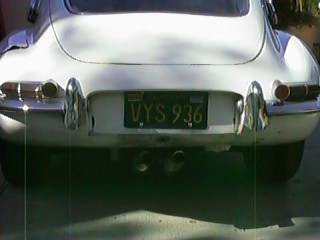 It appears even from a distance that something is wrong with the rear end. The bumpers were damaged, and the backup light is missing, closer inspection found that about 2 inches of bondo had been generously loaded into the rear to hide damage caused by a rear ender. This and the associated rust will require the replacement of the trunk tub, license plate frame, and the hatch deck. This will be my first attempt at major body work, and should be more than enough of a challenge.
Tear down begins
---