Coming together fast now!

---
Progress is flying now, with the engine back in and all the small parts already rebuilt. Most of the big problems are solved. The fun but frustrating part is having many projects going in parallel, each is stop and go as I discover parts I need or problems which aren't easy to solve.
---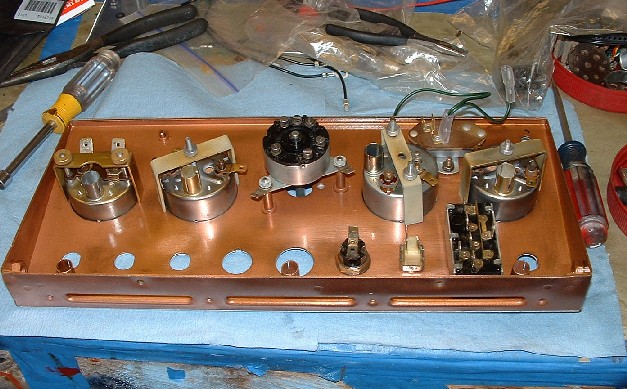 I rebuilt all the gauges myself, with the exception of the Speedo which needed a professional to re calibrate to 3.07 rear. Fortunately the chrome and gauges weren't in really bad shape on this car so I just buffed up the switches and repainted the Trim rings on the gauges. I cleaned and polished the original plating on the smaller switches and gauges and tested each before reinstalling. I made new seals for the gauges out of two or three rubber o rings super glued together and cut to fit. The gauge face plates just needed a good cleaning. For this i used windex and grease and wax remover. on a clean paper towel.
One of the most difficult parts to find for this year E-type is the hash pattern aluminum interior parts, They aren't being reproduced, so you have to find good used parts. Good clean originals are very rare. I bought 3 sets of dash panels from Ebay and took the best of the 3. This panel was nearly perfect. there is only one little mark on it. I have heard that Classic Jaguar may be gearing up for a run of these but for now its not listed on their web site currently.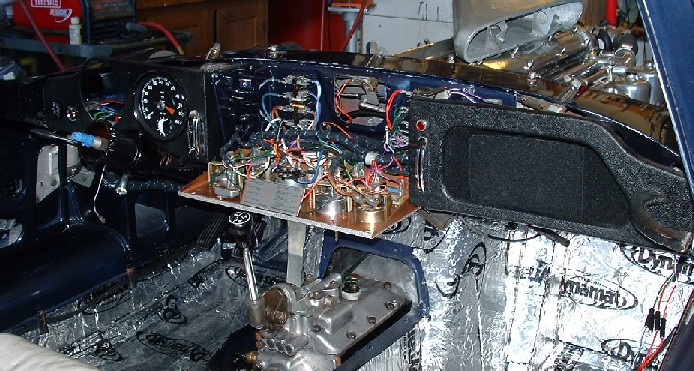 I was also lucky that my left and right dash panels were in good shape, I cleaned them up with Armor all and installed a new glove box, now the look like new! Wiring up the center dash was a bit of a project, but with three versions of schematics and pictures from original cars, I figured it out. Now I only have a couple of wires that I can't account for, I'll have to get the rest of the car wired and start testing before it becomes clear why I have these extra wires. Once I have a battery for the car I'm sure I'll find all kinds of mistakes. I opted for a completely new wiring harness from British wiring. The old Lucas harness was well beyond reasonable salvage.

I installed new tumblers in both the doors and the dash, the originals worked but were loose and full of dirt, not giving the feel of a new lock when the key goes in. The only negative from this that I have a door key and an ignition key. I can probably reset the tumbler, but For now I can live with two keys.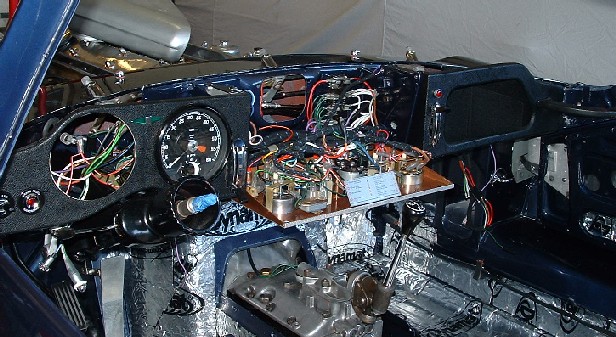 I rebuild most of the gauges myself, but the speedo was more than I could handle, so it went out to a professional! I'll send the steering wheel out as well once I get into the interior installation. I am planning on keeping the interior out until I've got most of the mechanical issues worked out. No reason to dirty up the interior until all the kinks are out of the engine and drive train.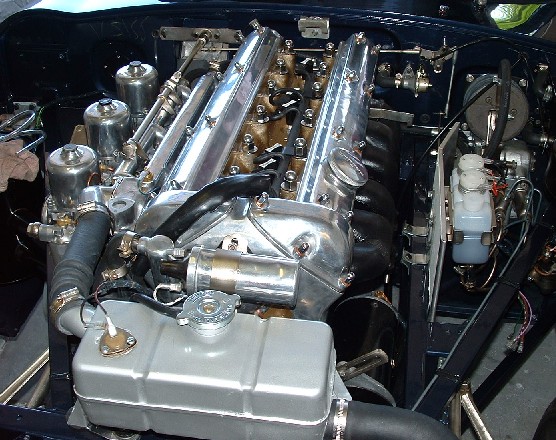 Hey it won't be long now. Fire in the Hole!! At this stage I'm bleeding brakes and adding fluids. I still need a radiator and a the Gas tank but otherwise its very close.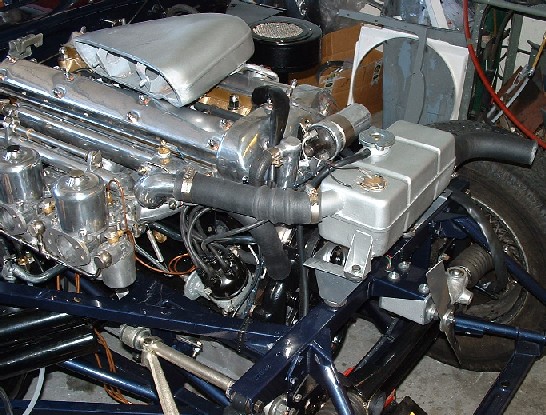 The Carbs are roughly adjusted based on instructions in the shop manual and will be fine tuned later. Here you can see a couple of my Cheney hose clamps. I was lucky to have 90% of the originals, but will be short 3 or 4 of the larger ones. Ebay has really gone nuts over these Cheney clamps recently.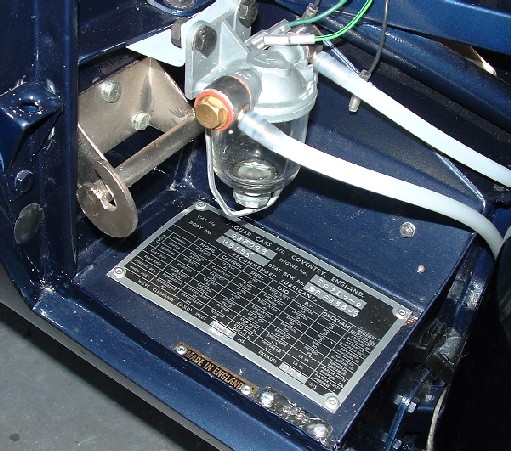 Here is my correct 1963 E-type data plate and fuel lines are all in. I used a large industrial cable crimping tool to hold the pipes while I tapped the fittings in. These plastic lines are a real bear to work with. Any one who has ever worked with this Fuel line knows how tough it is. Even 40 year old plastic fuel line is hard to cut or break.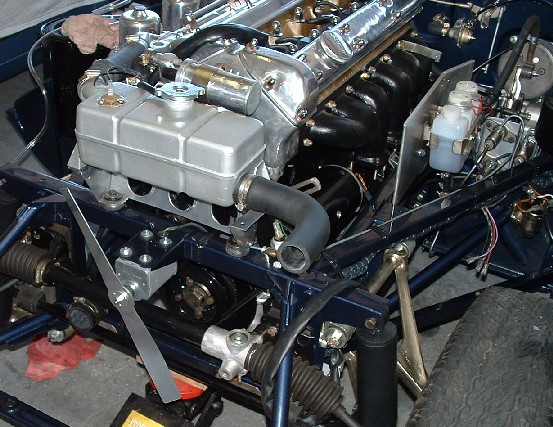 Look at that monster fan ready to blow huge amounts of cool air over the radiator. Not sure what Jaguar was thinking when they designed this setup. No wonder Coolkat has built a business around replacement fans.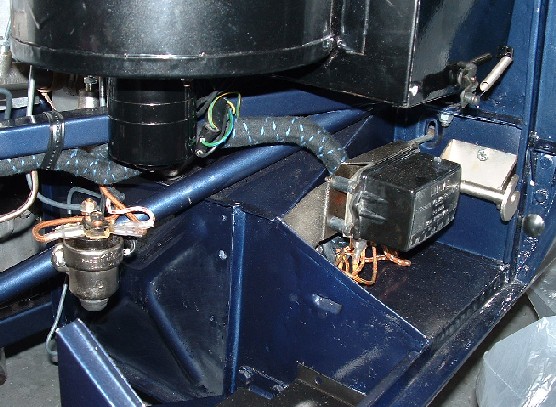 Here is some of the wiring harness detail. I'm missing a clamp on the main harness just above the regulator. Also I haven't yet run the starter and battery wires yet. The starter wire runs around the front of the front of the sub frame instead of over the transmission behind the engine. I put this in wrong the first time and had to remove and re run it.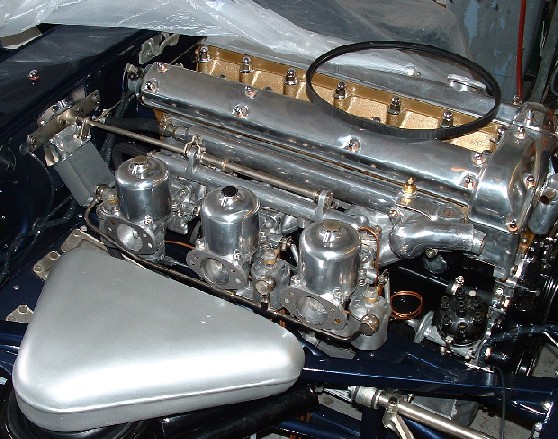 Nothing like the look of three SU carbs, I'll wait before putting on the output flange for the air cleaner plenum. Its very likely that I'll end up needing to pull something apart in the carb area during fine tuning.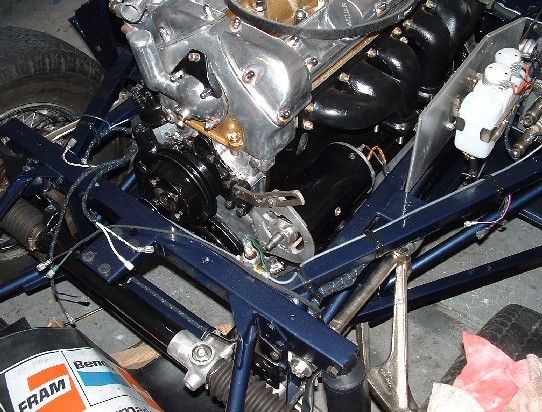 Here I'm working on the generator pulley. I got the generator core from a friend and rebuilt it but it didn't have a pulley. I found the correct v-belt pulley and blade later and put it all together on the car. Hope it works!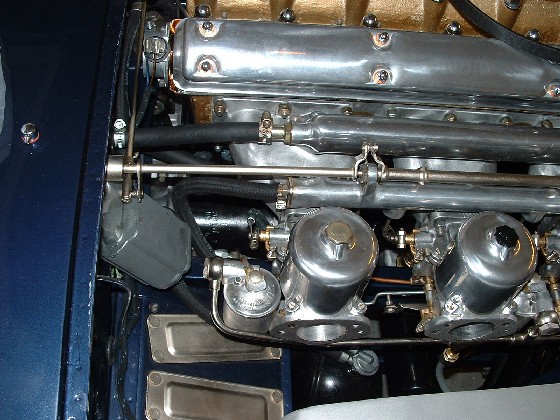 The throttle linkage is all ready to go, along with the water and vacuum lines. More Cheney hose clamps. Things in the engine compartment tend to get dirty when you are putting them together. I'll need to go over everything, after everything is dialed in.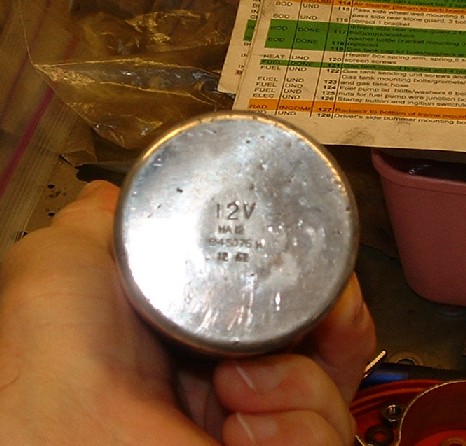 Here is a shot of a correct 12/62 date stamped Lucas coil. I got this from one of the used jaguar parts vendors. Hopefully it is still strong. If not I'll have to get another one somewhere.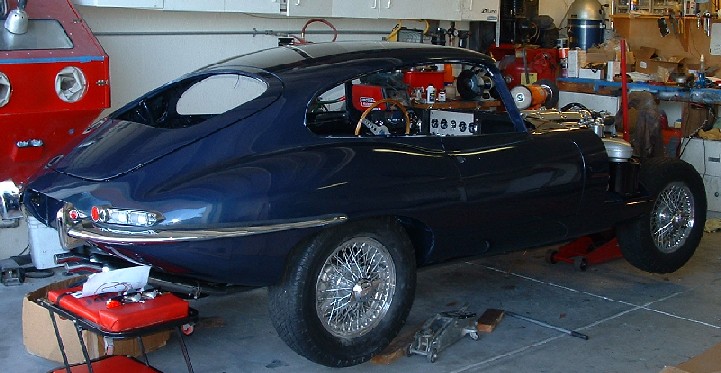 Here the bumpers and are in and the tail lights are going on. This is stressful work. Trying to get everything to fit without paint damage.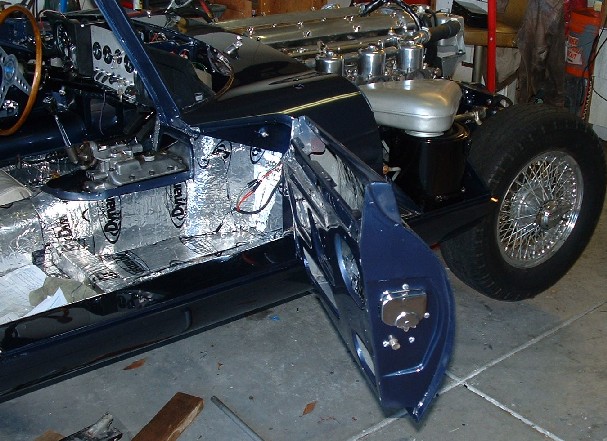 The door latches are back together and installed. These take allot of abuse. I cut the original brads loose to get the chrome housing off of the latch. After plating it I put it back in and tried tack welding it. The weld just wouldn't hold up to the stress of door slamming, so I ended up tapping a #10 32tpi screw into the main shaft and putting a washer behind it to distribute the force. It seems to be holding fine now.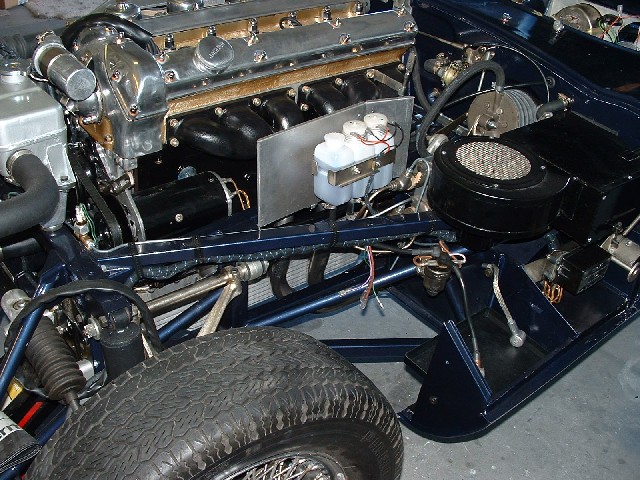 The brakes and clutch are all bled now and the battery is ready to go in. I found a place online that sells modern replacement batteries that look like original 63 era Lucas lead acid batteries but are modern sealed maintenance free units inside. This should save allot of grief. I've had normal lead acid vintage replacement batteries in the past and they always leak acid. Acid just kills the paint.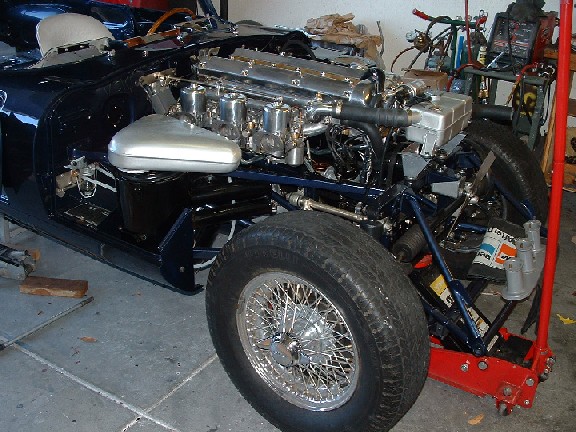 Not much to say here but, hey its getting close now!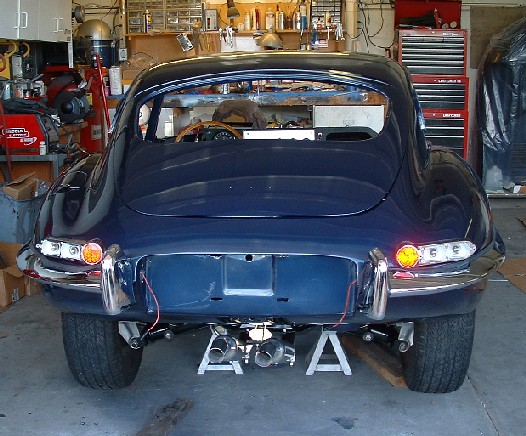 Here the tail pipes and lights are in. I still need to put the back up light in but that is fairly simple. I didn't remember to send out the license plate lamp chrome bits when I had the last plating done so that is going to have to wait.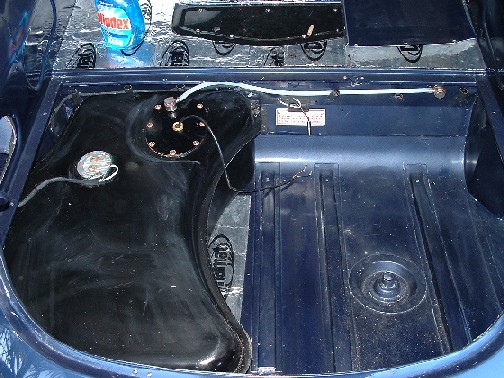 Here is the fuel tank after much toil. I had a heck of a time with this. First I sent the tank out to a local radiator shop where they dipped it and coated the inside, like a typical radiator shop they just shot black rattle can on the outside right over the rust and dirt. So. I had to strip the outside and repaint. After this was resolved, I discovered that the tank was a very tight fit in the trunk. When I replaced the tub and most of the rear sheet metal. a couple years ago, I had no templates or measurements to set the back of the tub. So I found that it was about one inch to near the rear wheel well. The result is that the tank was almost impossible to get in. I managed to get it in after two weekends of cursing, but it is not a mistake I'll ever make again. Next time I'm going to take some measurements before hand from a known straight car. After getting the tank in I had to grind out the mounting holes to get the bolts to line up. Lots of dirt and small paint chips happened in this process in the tank area. I touched it up and it isn't seen once the tank is in.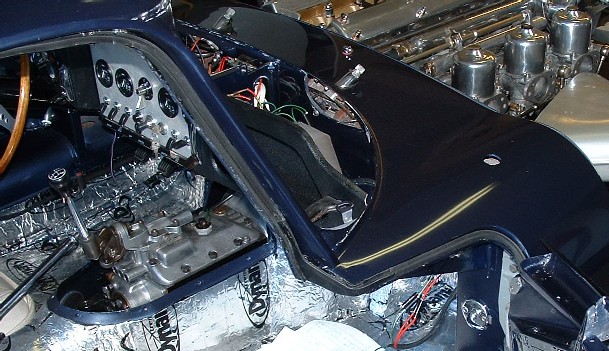 The rubber molding went in without any issues. But you really need to be careful when doing this and take your time. Its easy to damage paint wen working on these kinds of things.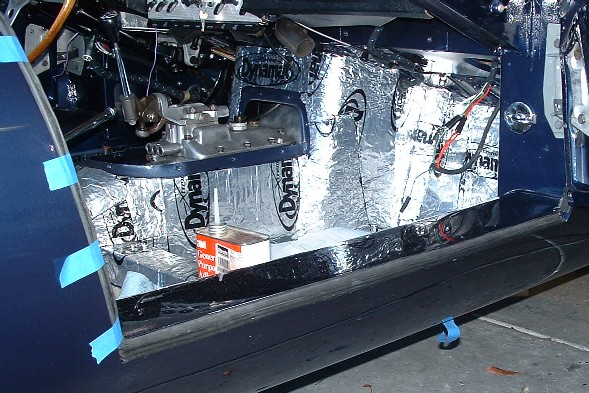 More rubber molding. I made my lower door gap pretty close so had to make sure the weather strip was glued down perfectly to the track. I used a razor blade to trim the back side of the stripping to allow the door to shut flush.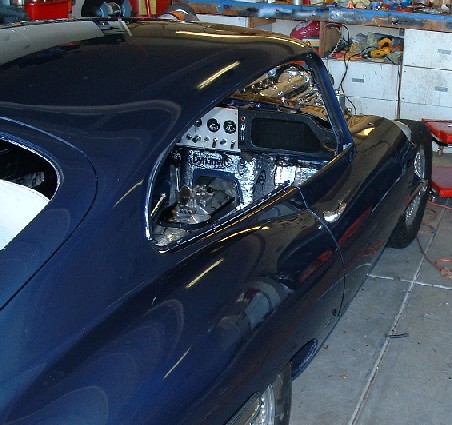 Here is the door gap so far, you can still see a slight ridge on the rear edge of the door, I will continue to tinker with this as the car comes together. Close enough for now.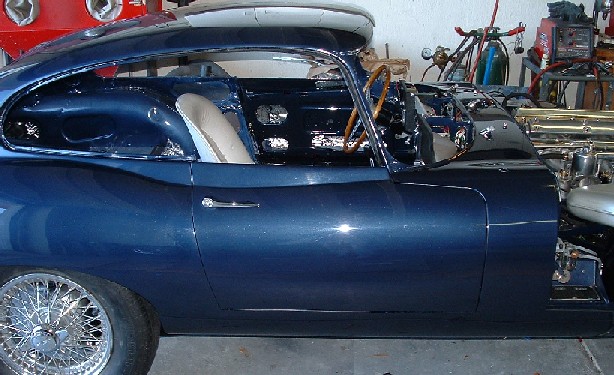 Now the door handle is on, i am still struggling with the lock mechanism but I'm sure its just adjustment.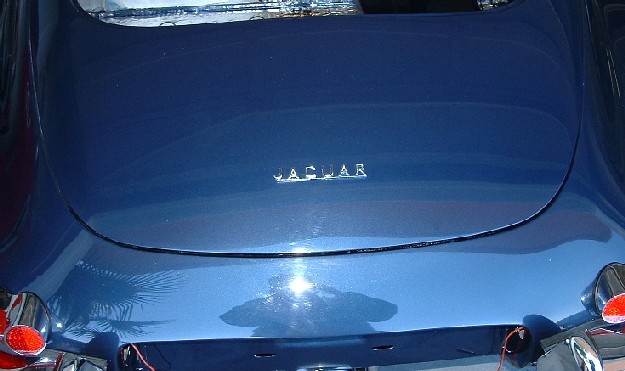 Simple is so good! Here I have the Jaguar logo in place temporarily. I will take it off and buff out the hatch one more time before clamping in it in for good.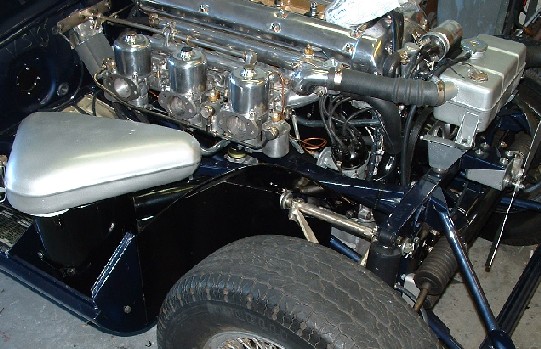 I went ahead and put the fender wells in, I'm just about ready to start the car now and hope I won't have to remove these again.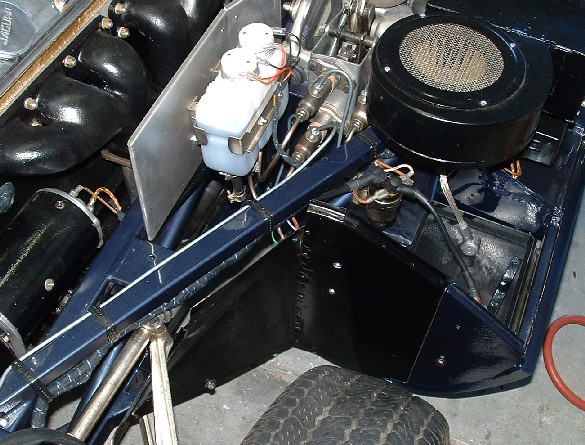 I have the Driver's side Fender well in at this point, it has the horn relay mounted on it and so I thought it would be good to get it in before I started the car. Just need a battery now.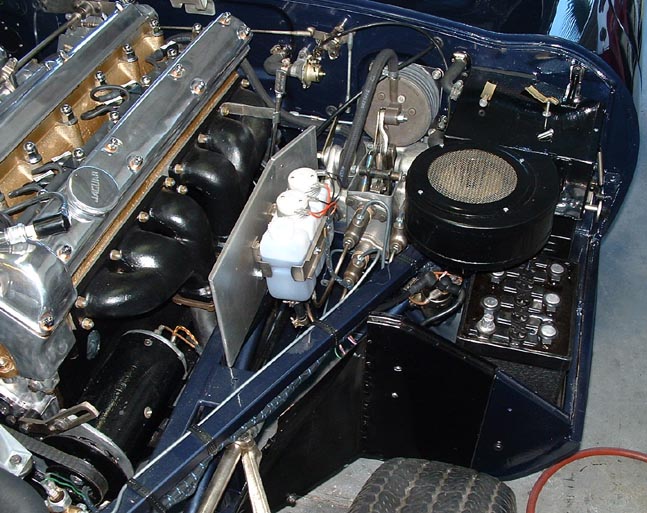 Battery in and ready to go, I won't connect it until I'm sure the electrical system is all correct.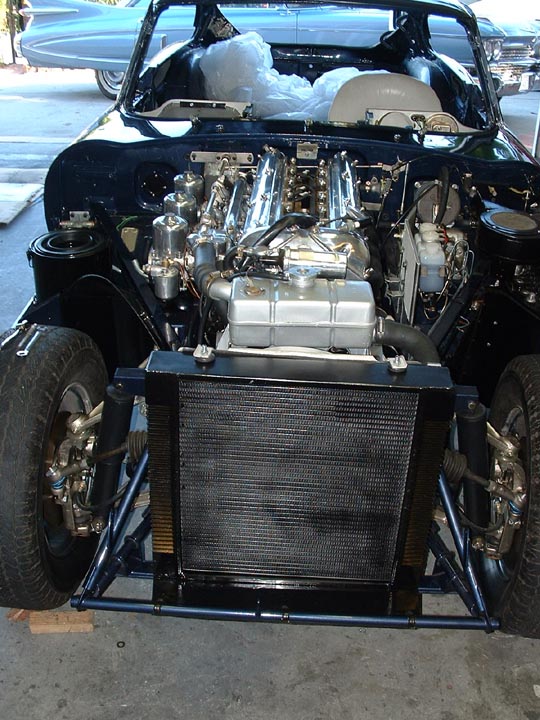 Here is a fairly correct 3.8 Liter E-type aluminum radiator reproduction. I got it from cool cat. Seems very well made. It isn't exactly like the originals, but should be good enough for the judges.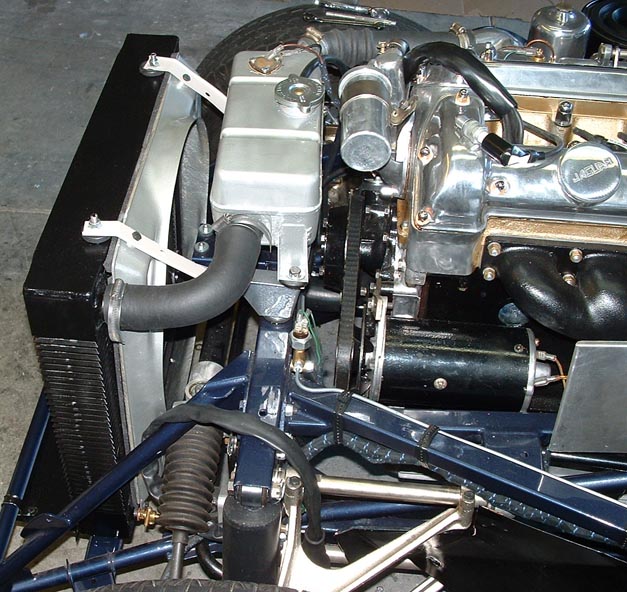 Getting very close now. I have the radiator in and am trying to get spark. You can see the number 6 spark plug out. I have dozens of small leaks in the cooling system to debug but it won't be long now! As soon as I tried to turn the car over with the starter, I found I had some major problem. It turned out, that I had to pull the starter because it was dead shorted. I had put a little plastic bushing in upside down and it was letting the power pin to touch ground. Many will say its impossible to pull a starter on a 3.8 E-type without pulling the engine. This is untrue. You need some special tools but I got it out in a couple hours with an "S" wrench and a modified 5/8" socket. If you need more details email me.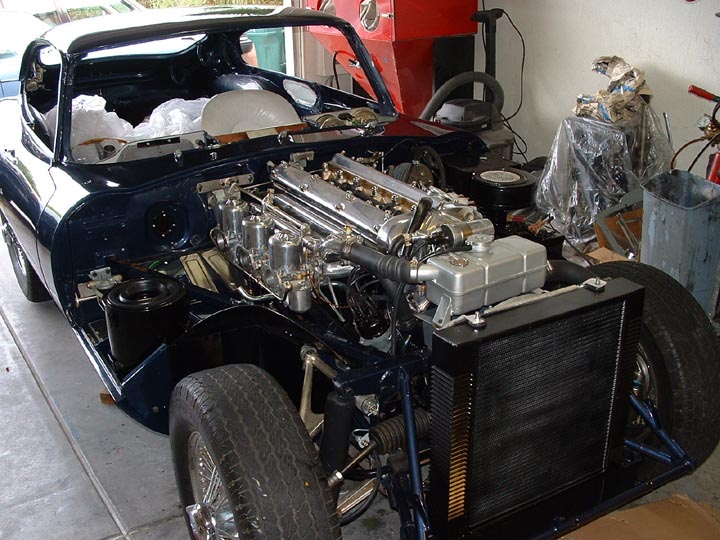 Ready to run! We have gas, We have spark, we have cooling, we have exhaust. We have timing set, spark advance set. oil, brakes and clutch bled. Electrical system mostly working.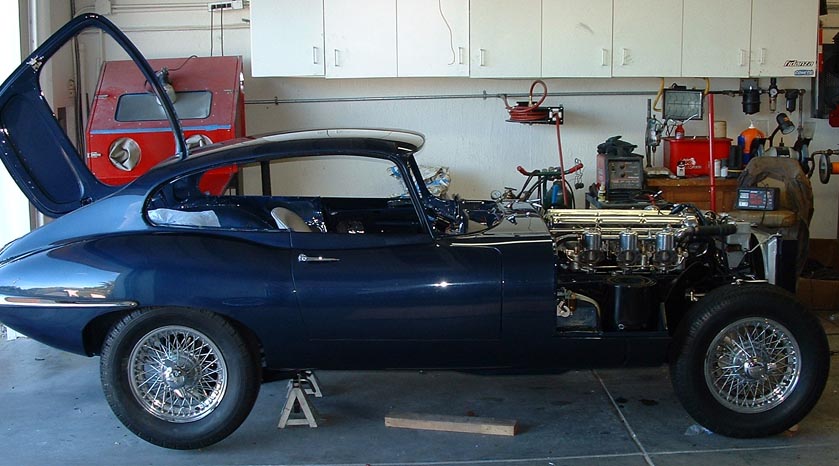 There is only one not so small problem so far. The transmission won't go into Neutral. But more about this later, we are ready for fire in the hole!!!
---